CalNeva Realty - Preferred Vendor List
See below to find preferred vendors and potential discounts for all of your home needs! Over $500 available savings!
NOTE: Be sure to ask each vendor about offers and/or discounts prior to hiring for service. CalNeva Realty maintains this list to assist our clients but each of these companies operates independently and we do not assume any liability for your service experience.
CalNeva Realty encourages you to secure quotes from at least three vendors (regardless of vendors on this list) for any services.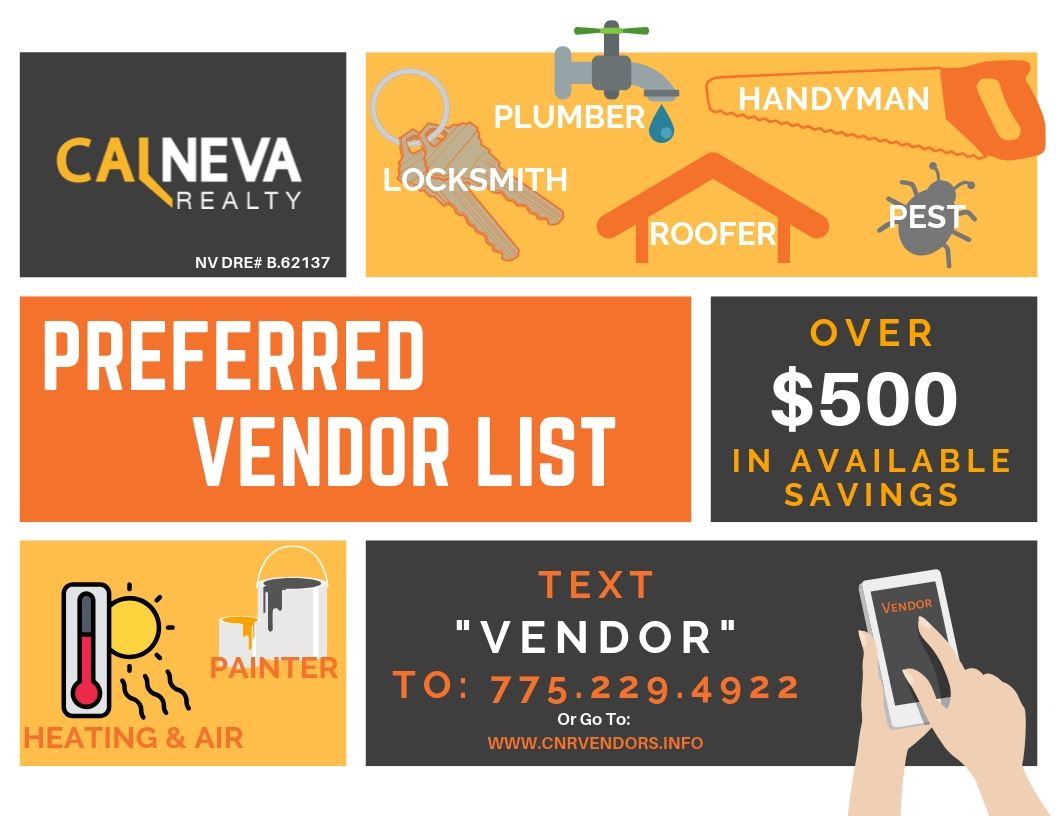 Pre-Sale Vendors
| | | | | | | |
| --- | --- | --- | --- | --- | --- | --- |
| Category | Vendor | Phone | Website | Offer/Service Area | | |
| Escrow | Western Title Company | 775-782-9771 | https://bit.ly/2Iu3Q1x | Seniors and Active Military discount on escrow fees when you mention CalNeva Realty - Northern Nevada | | |
| Lender | New American Funding | 775-721-0354 | https://bit.ly/2B1aCra | $199 credit against your loan fees. Paid upon close of escrow - when you mention CalNeva Realty - Northern Nevada | | |
| Well Inspection | Double R Water | 775-525-0096 | https://bit.ly/2IDgOKn | Free Escrow Fee or $50 off your service - when you mention CalNeva Realty - Northern Nevada | | |
---
---
---
HOME IMPROVEMENT AND MAINTENENCE
Category
Vendor
Phone
Website
Offer/Service Area
Appliance/Furniture
RC Wiley
775-337-4600
https://bit.ly/326diQo
$50 discount or 5% off your entire purchase of $99 or more - when you mention CalNeva Realty - All Northern Nevada
Carpet Cleaning
All Cleaned Carpets
775-461-3325
https://bit.ly/2B0f5uy
20% off with your home purchase from CalNeva Realty - All Northern Nevada
Chimney/Woodstove
A.J's Stoves
775-783-9986
https://bit.ly/2q2OkmV

$100 credit to new units and 10% off their first service to their units - when you mention CalNeva Realty

Electrician
Winters Electric
530-541-8880
https://bit.ly/2q4wAHR

Free Estimate - $80 per hour in all areas - Tahoe $90 per hour - when you mention CalNeva Realty

Flooring
Full Circle Flooring
775-853-1330
https://bit.ly/311YvVA
5% off Yelp coupon - CLICK HERE
Handyman
HandyMasters LLC
775-315-4281
N/A
10% off services when you mention CalNeva Realty - All Northern Nevada
Heating and Air
Sierra Air
775-800-5500
https://bit.ly/2OCBZQG
Online Coupon
Heating and Air
Anderson Heating
775-230-7628
https://bit.ly/35loieI

$105 service call in Carson Valley $125 to Reno, Sparks, Stagecoach, Silver Springs, Yerington - when you mention CalNeva Realty

Home and Pest
Celtic Pest and Home Inspections
775-348-7445
https://bit.ly/2YGIh4Q

All Northern Nevada - (When scheduling home and pest, no travel fee) Travel fee for extended trips form Reno

Housekeeping
You've Got Maids
775-515-4111
https://bit.ly/2ICXrB2
$75 off of Move-In or Move-Out clean and/or
$25 off on the first 4 maintenance cleanings - All Northern Nevada
- when you mention CalNeva Realty
Junk Removal
ReHaul
775-600-9329
https://bit.ly/2ICXtZF
10% off when the mention CalNeva Realty - All Northern Nevada
Locksmith
Valley Lock and Key
775-673-6006
https://bit.ly/2ICHYB8
6 locks for $125.00 + 4 keys ; CC plus $30 - when you mention CalNeva Realty - Reno/Sparks/Carson City
Locksmith
Accurate Mobile Locksmith
775-883-8444
https://bit.ly/311Zm8K
$10 off - Web Site Coupon
Moving Service
All Out Movers
775-392-3912
https://bit.ly/2M4UBHn
5% off for all who mention CalNeva Realty - All Northern Nevada
Pest Exterminators
Nash Pest
775-852-3444
https://bit.ly/2ozy3p9
All Northern Nevada
Plumber
Dukes Plumbing
775-782-5111
https://bit.ly/2q0LheR
All Northern Nevada
Plumber
Jack Rabbit Plumbing
775-782-4274
https://bit.ly/2pdv5q4
Carson Valley, Carson City, and Dayton
Remodel / Painting
Craftsman Construction
775-690-1749
N/A
Carson Valley, Carson City
Roofer
East Fork Roofing
775-800-7663
https://bit.ly/2B1GBYu
Reno, Sparks, and Carson
Roofer
Valley Roofing
775-333-1045
N/A
Carson Valley
Security Systems
CEI Alarms
775-673-9500
https://bit.ly/2NfPfGt

10% discount on our install and a $5 a month discount on monitoring - when you mention CalNeva Realty

Septic
Sierra Septic
775-356-3939
https://bit.ly/35n6Lmv
$25 off for active military or senior citizens
Septic
Bobula Septic Service
775-265-2520
https://bit.ly/2p4Ilxn
1 year supply septic bacteria treatment - $60 value - when you mention CalNeva Realty
Window Cleaning
Squeaky Clean
775-782-8899
https://bit.ly/325ltwm
All Northern Nevada
Window Coverings
Judy's Window Coverings
775-782-8334
https://bit.ly/2M2946P
60 Mile Radius from Gardnerville